Safar ki Dua in Arabic :
سُبْحَانَ الَّذِي سَخَّرَ لَنَا هَـٰذَا وَمَا كُنَّا لَهُ مُقْرِنِينَ وَإِنَّا إِلَىٰ رَبِّنَا لَمُنقَلِبُونَ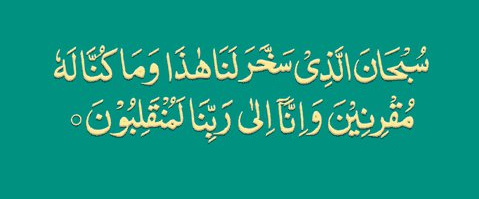 Safar ki Dua in English : Dua for Traveling
When Boarding a vehicle recite this Dua :
All praise be to Allah, Glory be to Allah who has put this (vehicle) under our control though we were unable to control it. Surely, to our Sustainer are we to return.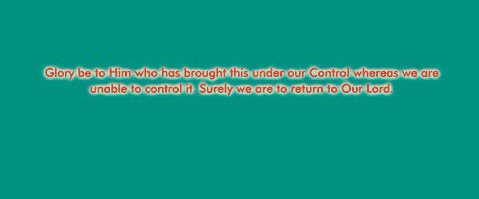 Safar ki Dua in Urdu / Hindi : سفر کی دعا
Jab tum un ( swariyon) par baith jao to apney RAB ke ehsan ko yaad karo aur kaho ki
Wo zaat (ALLAH) paak hai jisney isko hamare zer-e-farman kar diya aur hum mein taqat na thi ki isko bas mein kar lete aur hum apney RAB ki taraf laut kar jane wale hain.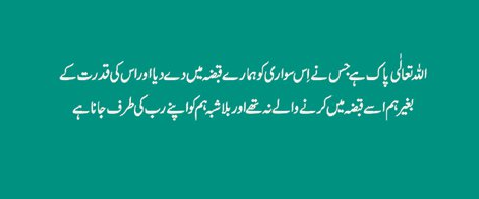 Subha Nal Lazi Saqaralana Haaza Wama Kunna Lahu Muqrineen Wa Inna Ilaa Rabbina Lamun Qaliboon.
(Al Quran : Az-Zukhruf, (43), Verse #13-14)
Other Terms : Dua Safar, Dua e Safar, Travel Dua, Safar Dua, Travelling Dua, Dua for Travel, Traveling Dua.
We all should learn this dua safar with translation. We should also teach this safar ki dua to our children. Make habit of reciting this dua when ever travel. If we look at statistics of road accidents we will analyze that number of road accidents are increasing by every passing day so we all should recite this dua when ever traveling. We seek protection from ALLAH Almighty by reciting this dua.
For more Dua's click here.
Note : We have tried our level best to avoid any mistake but if anyone finds any mistake in Dua safar or in translation or there is any other mistake please let us know so that we can make changes accordingly.
نوٹ : ہم نے کسی بھی غلطی سے بچنے کے لئے اپنی پوری کوشش کی لیکن کسی دعا میں یا ترجمہ میں کوئی غلطی پائے تو براہ مہربانی بتائیں. تاکہ ہم اس کے مطابق تبدیلی کر سکتے